There's nothing like a little Autumn winter browse while it's pouring with rain outside. Especially when we're meant to be entering the summer season (Welcome to the UK guys!). This week I attended the AW17 House of Fraser press preview at the London Vinyl factory in Soho.
The great thing about House of Fraser's home collection is there's always something for everyone. Whether you're a rustic, country farmhouse type. Or if you're into dark interiors with touches of retro 70's styling, they have brands to suit everyones home style.
So lets start with my favourite brand from their HOME range; BIBA. This AW17's BIBA collection is a striking blend of luxurious materials of jacquards, satin, brass trims and metallic prints which remind me of the original deco Biba brand in the 1970's. The standout item was the brass lamp pictured below which is £195. Although it's still pricey, it's certainly cheaper than some of the designer alternatives, so it gets the thumbs up from me.
Other favourites included the black marble base bar tool set, cocktail shaker and the textures in the cushions and throws in the BIBA bedding set.
Lastly, how cute is the little pineapple candle stick on the bedside table. Just when I thought nothing new could be done with pineapples, you go and do this. Well played HOF. Roll on Autumn Winter.
BIBA AT HOUSE OF FRASER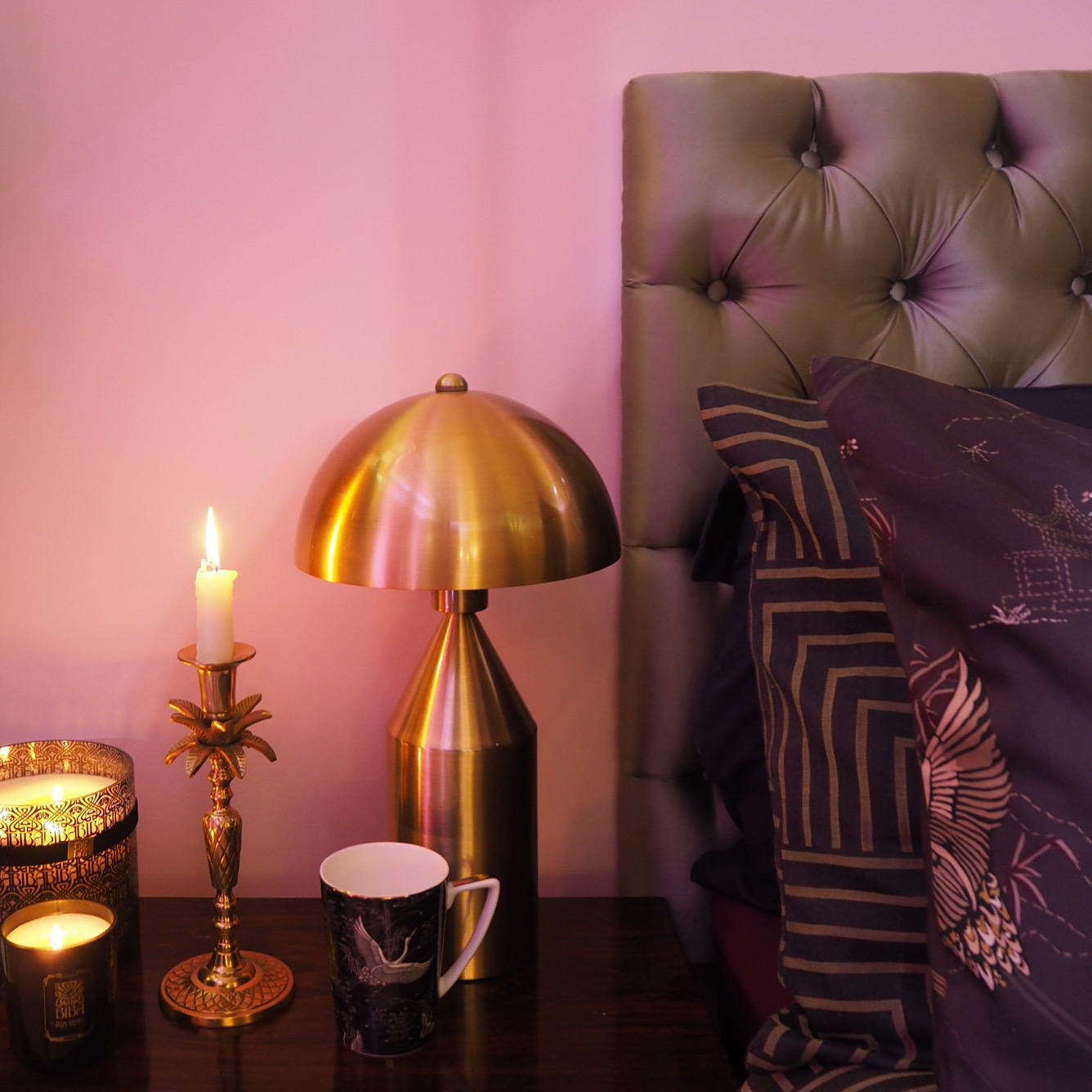 Prices:
Brass lamp £195, Pineapple candle sticks small £25/ large £30, Marble bar set £50, Wire frame mirror above the bed £110.
GRAY & WILLOW
"Set withn a calm, mineral palette, shades of slate and stone offer a touch of utility -chic, softened by handmade, organically-shaped dinnerware and tumbled cotton linen. All natural materials bring irregular forms and a precious handcrafted quality making each piece totally unique".
Prices include: marble pestle & Mortar £30, grey check tea towels ( set of 3) £14, organic leaf print cushion £20, Thea vase (on the dining table) £22.